Happy weekend! Although for most of you it's half over, I am still much anticipating it's arrival [since my weekend doesn't start until 5 o'clock Sat night]. I have made my list of awkward & awesome's!
-The girl across from you in the school library wearing

WAY

TOOOO
MUCH
make-up. Seriously, it looked like stage make-up.

So

bad.
-Having every person you pass look at your feet, just to make sure you're really

that

tall.
-When you start acting like the other 14 men you work with. Fart humor and all! Oops!
-The fact that next week when I do this post I will be missing 4 of my teeth.

Aww man!
-People who drive

s l o w

in the FAST LANE. Seriously? I will only forgive you if you are 75+ years of age.
-Glow sticks. The other day I found some at the dollar store and felt like I had an obligation to my childhood to buy them-

so I did.
-
Knowing that after an 8 hour day at work I get to go home then go see the

new Harry Potter

with my little sista.
-College Fashion
and how every Thursday they come out their post titled Haute Links
. It contains a bunch of cute, stylish, economical and random facts and websites!
-My

Wreck This Journal

HAS ARRIVED! I REPEAT! IT HAS ARRIVED! YAY!
-Those cute stupid movies [I'm talking about

When in Rome, The Back-Up Plan, Letters to Juliet

]. They are not the greatest story lines, cast or plot, but either way they are cute and I love them all the same. [Watched Kristin Bell in

When in Rome

last night - funny & cute!]
-Miley [shown above with magic blanket
see blanket here
]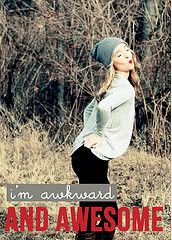 -B